The University of Western Australia, Enterprise Transformation Partners and South Metropolitan TAFE are working together to deliver the UWA ERDi I4.0 Testlab - Australia's official centre of excellence for Industry 4.0 in the Energy & Resources sectors.
I4.0 aligned architecture and technology components will deliver the next step change in operational performance for the Energy and Resources sectors. I4.0 interoperability standards are critical in unlocking this value. The ERDi Testlab is a state of the art facility that will enable the rapid realisation of these benefits through research, development, trials, testing and education.
Who we are
A pilot project of the Australian Government's Industry 4.0 (I4.0) Testlabs for Australia Initiative, ERDi partners secured a grant, matched by The University of Western Australia and industry, to establish the platform. The ERDi team is an experienced, multi-sector group, with specialised knowledge.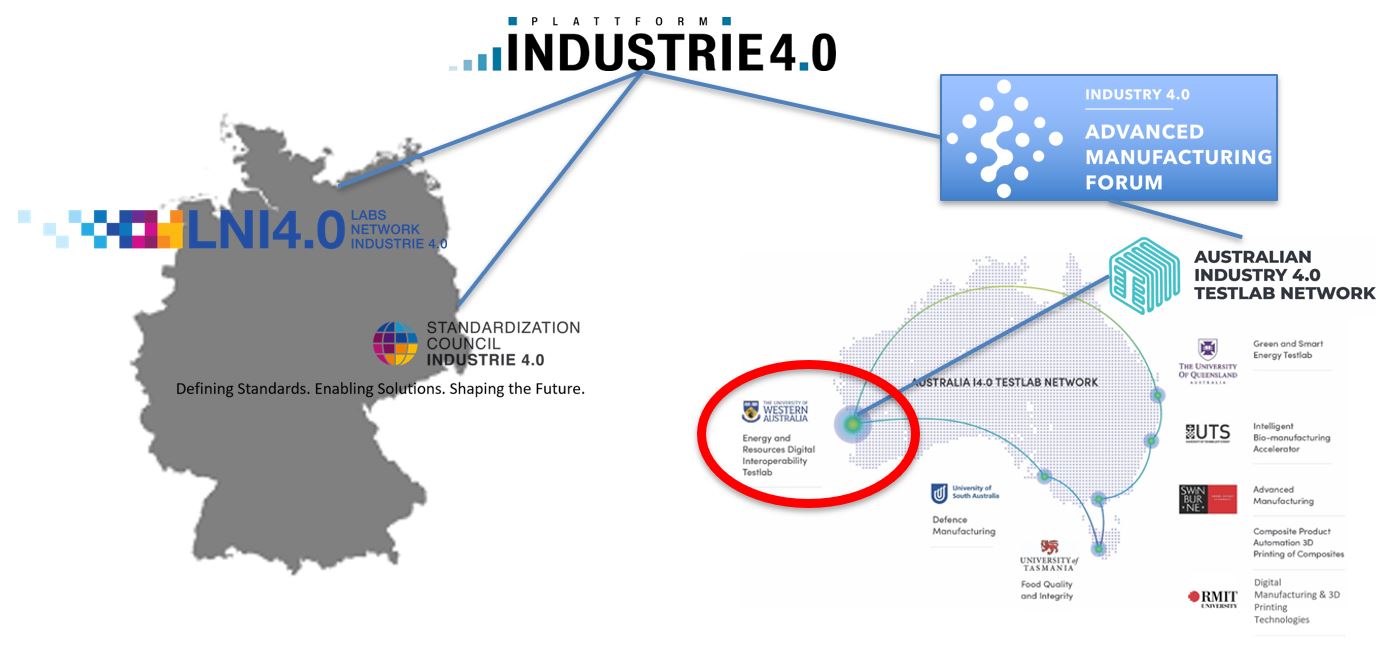 View the report about Industry 4.0 Testlabs in Australia.
What we do
ERDi provides the validation platform for you to test I4.0 commercial readiness for open process control systems using international standards.
We specialise in I4.0 interoperability standards from standards definition, research and development, testing of interoperable components and architectures, education and compliance testing.
We enable you to:
Validate your technology readiness for an I4.0 environment
Develop and improve your technology and architecture
Overcome technical problems
Lower technology risks
Increase technology adoption
The Testlab provides services to multiple organisations of any scale.
Energy and Resources Industry
Contribute to and leverage I4.0 interoperability standards
Gain access to globally recognised subject matter experts
Create and utilise organisation-tailored data sets for testing
Research, Design and Testing Services for interoperable technologies and architectures
Access to emerging I4.0 aligned technologies in the Testlab
Global Software and Technology Companies
Education on interoperability standards to enable you to design your technology to fit into I4.0 architectures
Technology Conformance Certification Services for I4.0 Standards
Using the Testlab for showcasing interoperable compliant technologies
Multi-vendor technology integrated showcases
Start-ups and Small Medium Enterprises
Education on interoperability standards to enable you to design your technology to fit into I4.0 architectures
Technology Conformance Certification Services for I4.0 Standards
Using the Testlab for showcasing interoperable compliant technologies
Multi-vendor technology integrated showcases
System Integrators
Education on interoperability standards to enable you to design your technology to fit into I4.0 architectures
Utilisation of Testlab for R&D of new I4.0 standards aligned architectures and processes
Individuals and Students
I4.0 Education
Testlab use for research and studies