AWS showcase the latest in Automated Mining Operating System at ERDi
Principal partner of the UWA ERDi i4.0 TestLab, Amazon Web Services (AWS), hosted the first open Automated Mine Operating System (AMOS) Demonstration event this week at the Perth TestLab.
It was a great evening with attendees ranging from mining companies, mining technology vendors and consultancies, getting to hear firsthand from AWS Energy & Mining Industry Lead (ANZ) Joe Zappia about AWS mining industry strategy and how they believe the i4.0 standards-based interoperability and the TestLab are playing a critical role in unlocking value in mining industry across all major business priorities. Further, Luke Gordon, Solutions Architect from AWS provided insights into how AWS over 20 years ago mandated interoperability between all AWS technologies as a critical enabler and way of working within AWS.
We then heard from ERDI TestLab's John Kirkman, about the industry three pillars of the Industry 4.0 vision autonomy, sustainability and interoperability and why the Australian Industry 4.0 TestLab network was established and the role they play in assisting industry and the technology sector in taking advantage of I4.0 opportunities.
Dr Peter Falloon from the University of Western Australia then presented awards recognising select mining and METs companies for their pioneering efforts with respect to the advancement of i4.0 interoperable solutions in mining.
Recipients included Guinea Alumina Corporation ( GAC), RPM Global, Datamine, Bureau Veritas and Wenco for their contributions via the GAC Integrated Management Systems Project in which implemented event triggered, i4.0 standards-based messaging was utilised to integrate various systems across mining, processing, rail, port and shipping enabling real-time information across all systems.
Also recognised were Gold Fields Australia, ABB and AVEVA for their contributions to the Granny Smith Mine Integrated Platform Project integrating the core mining systems via event triggered i4.0 standards-based messaging.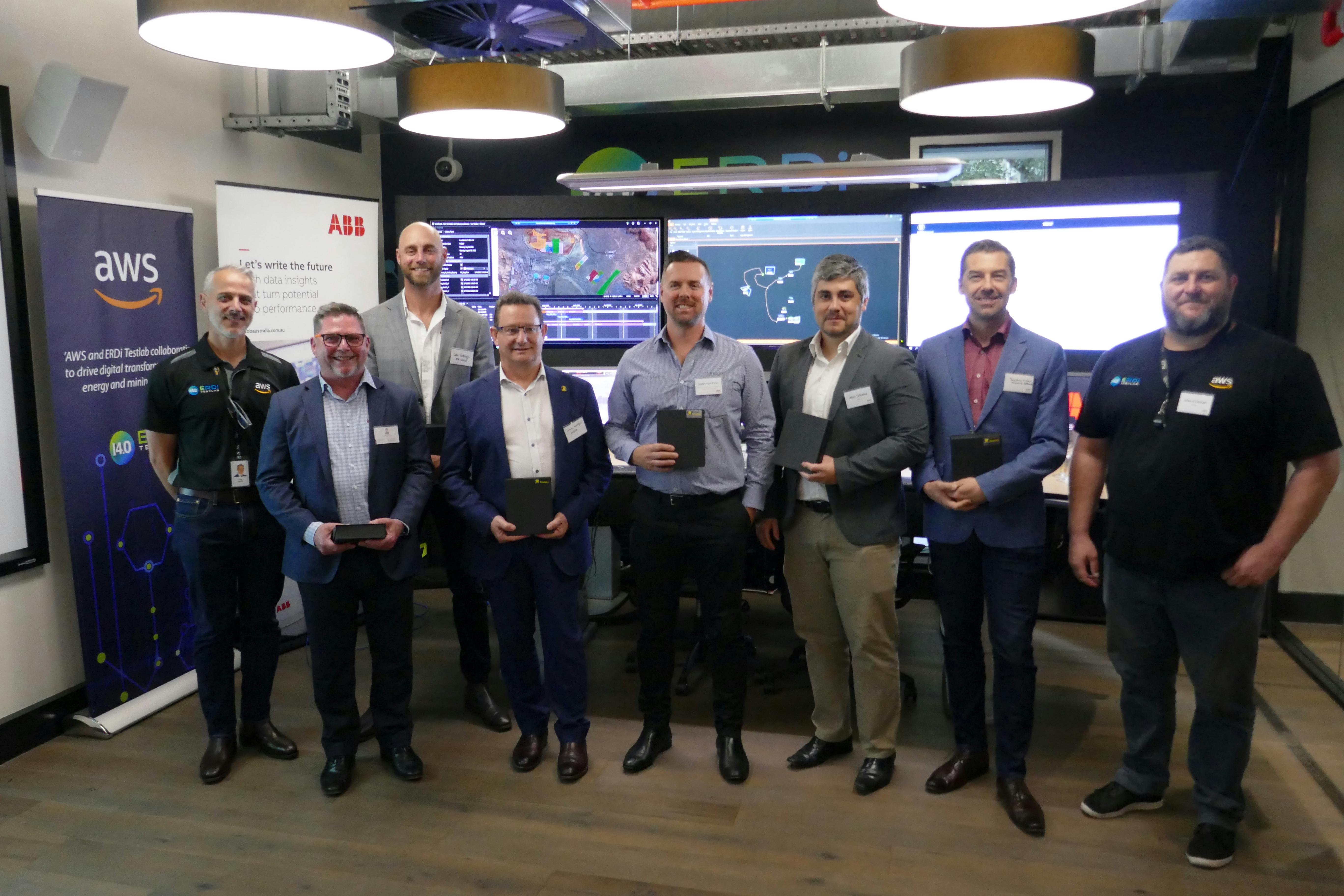 To round out the night, the ERDi team supported by METS members conducted two live demonstrations.
The first showcased RPM Global's Xecute mine scheduling software, WENCO's Fleet Management System, Datamine's Minemarket materials tracking software and an AWS hosted ISA-95 operational data warehouse, reporting and analytics solution exchanging information automatically via i4.0 standards.
The second demonstration showcased a I4.0 standards-based solution for defining and managing value chain configuration master data centrally and how it could be used to configure integrated solutions, so master data was always aligned across all systems exchanging information which is a critical enabler for automating across distributed systems. This was showcased with ABB's Operations Management System being automatically configured after receiving a complete mining site master data via a standard message from the VCM software.
The ERDi TestLab would like to thank AWS for hosting the event and assisting in creating greater awareness about I4.0 and interoperability and also thank our members and guests who attended and contributed to its success.
If you would like to find out more and see a demonstration for yourself or your team, please contact the team at ERDi to coordinate an introductory session.