Wenco International Mining Systems Joins ERDi I4.0 TestLab
For over 30 years, Wenco International Mining Systems has worked with mining companies to extract unrealised value.
Under this mission, Wenco has developed an integrated a suite of solutions to support the digital transformation of the mining industry.
Fleet management, asset health, data analytics, and other technologies join together in the spirit of open interoperability to raise mine productivity and efficiency, lower routine costs, and establish a safe and smooth mining operation.
"It's great to have Wenco take up membership with ERDI, and the team is looking forward to showcasing the Wenco fleet management system interoperating via i4.0 standards with mine planning, materials tracking and data warehouse applications from other software vendors, as well as working with them into the future", said John Kirkman, Co-founder of the ERDi TestLab.
Wenco has been one of the pioneering mine software companies that has participated in the recently completed AMIRA P1208 Project – Enabling interoperability in natural resources project undertaken at the ERDi TestLab, so keep an eye out for upcoming news about that major project and its exciting outcomes.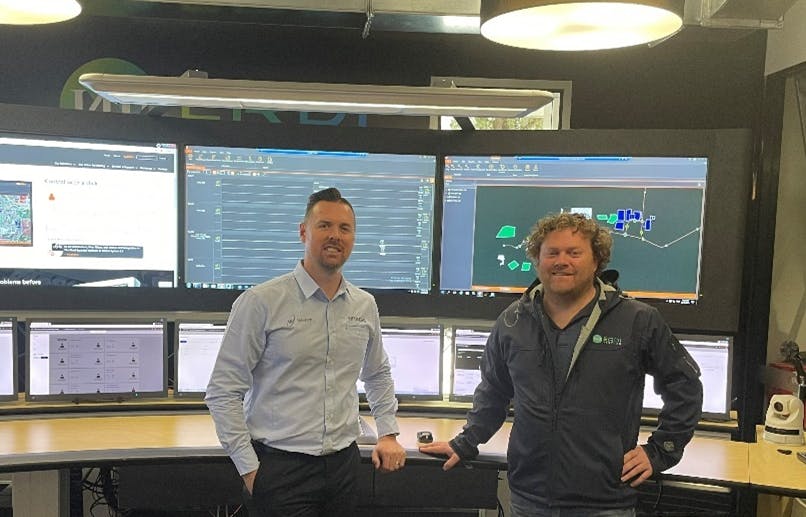 Pic. Jonathon Keys from Hitachi (Wenco distributor) and Gerard Moloney from ERDi at the ERDi TestLab in Perth.
"Wenco is committed to enabling greater interoperability in mining and supporting the adoption of open standards" ," says Patrick Ligthart, Principal Product Manager at Wenco. "Wenco believes this approach to integration across the mining value chain delivers the greatest value for customers and moves the entire industry forward. We are proud to be working with ERDi TestLab on open solutions that ensure data flows freely between systems along the Mining Value Chain to assist our customer with making data driven decisions at the right time by the right individual"
Welcome aboard Wenco!
If you are interested in seeing interoperability in action and how these approaches are enabling autonomous mining operations (in contrast to automating machines), please get in contact with the ERDi Testlab to organise an overview.
If you would like more information about this topic, please email John Kirkman directly at john.kirkman@erditestlab.com